Spektra Systems CloudLabs and CloudEvents Platform may be used by schools, school districts, or teachers (collectively referred to as "Schools/Educator/Educational Institution/Educational Agencies") in a learning environment. When CloudLabs enters into a contract with Schools to provide access to the CloudLabs services as part of the School's educational curriculum, we may have access to personal information (PII) about students, teachers, or school administrators.
CloudLabs/CloudEvents and the services it provides to Educational Agencies comply with applicable provisions of law, including the Family Educational Rights and Privacy Act ("FERPA") and equivalent federal and state laws. Educational Agencies use our services to develop various online learning courses/programmes to cater to the needs of their students as part of their educational curriculum. These uses are specific to each Educational Agency and are governed by the Data Protection Agreement (DPA) & TOU between CloudLabs and the Educational Agency.
Who we are and What we do
CloudLabs and CloudEvents (Hackathons) are the registered products of SpektraSystems LLC.
Our CloudLabs and CloudEvents Websites and Portals have been reviewed and approved by iKeepSafe for having policies and practices that are compliant with the federal mandates for FERPA.
CloudLabs platform helps to run hands-on-labs, test drives & POCs for various scenarios at large scale. CloudLabs is designed for Organizations and educational institutes of all sizes to offer an impactful learning experience with zero to minimal management overhead.Following are the handful of services that CloudLabs offer to its partners and users.
HOL Platform: Build, deliver and consume custom technology labs at scale. Users can build their lab desired configuration once and deploy thousands of times with a few clicks.
Trainings & Workshops: Leverage our pre-built hands-on labs or bring your custom labs for trainings and workshops.
Demonstrations: Showcase tech product with impactful scenarios.
Events Support: Managed Support for in-person and virtual events for hands-on labs.
Cloud Orchestrator: Automate your cloud environments provisioning and lifecycle.
24*7 Live Support: Instant support for any technical and non-tech problems.
Pre-Built Labs
Virtual Delivery Experience:
CloudLabs is optimized to support virtual labs deliveries in today's remote world, with features such as the ability to shadow cloud and VM environments, providing watch over the shoulder experience for instructors.
Skill Validation: Our latest feature addition helps you validate if learners have completed the labs correctly to ensure skill validation and quality assessments.
CloudEvents (Hackathons): Organize impactful technology events with live progress tracking.
OWNERSHIP/CONTROL OF STUDENT'S PII (PERSONALLY IDENTIFIABLE INFORMATION):
You shall retain all title to and ownership of and all proprietary rights with respect toUser Data, and shall be solely responsible for its use thereof. You are also responsible for securing and backing up Your User Data. You hereby grant CloudLabs a worldwide, royalty-free, and non-exclusive license to access and use User Data for the sole purpose of enabling CloudLabs to provide the Services, and for the limited purposes set forth in Privacy Policy.
A. Information you give us.
You may give us information about you by filling in forms on our sites https://cloudlabs.ai/, https://portal.cloudlabs.ai, CloudEvents, CloudLabs AI Sign in (b2clogin.com) for registration purpose to use our services and by corresponding with us by phone, e-mail, post mail or otherwise. This includes information you provide when you use the "contact us" section of our site located at https://cloudlabs.ai/contact-us/, discuss with us the provision of and/or receive services from CloudLabs/CloudEvents, interact with us via our social media accounts (e.g., Facebook, Twitter, Linkedn) and when you report a problem with our site. The information you give us may include your name, address, e-mail address, phone number, Designation, Job Role, Organization.
B. Information we collect about you.
CloudLabs: With regard to each of your visits to our CloudLabs Portals (CloudLabs Portal, CloudLabs Admin Center, CloudLabs | Hands-on Lab Platform for Training, POCs & Demos) we may automatically collect the following information: technical information, including the Internet protocol (IP) address used to connect your computer to the Internet, browser type
Please refer to the below table for a detailed insight on the information that we collect about you and the purpose for which the information is collected. The data mentioned in the table are collected from any of the following sources: a. From Student b. From Parent c. From School. We would like to highlight that none of the data mentioned in the following table is transferred or shared with third parties.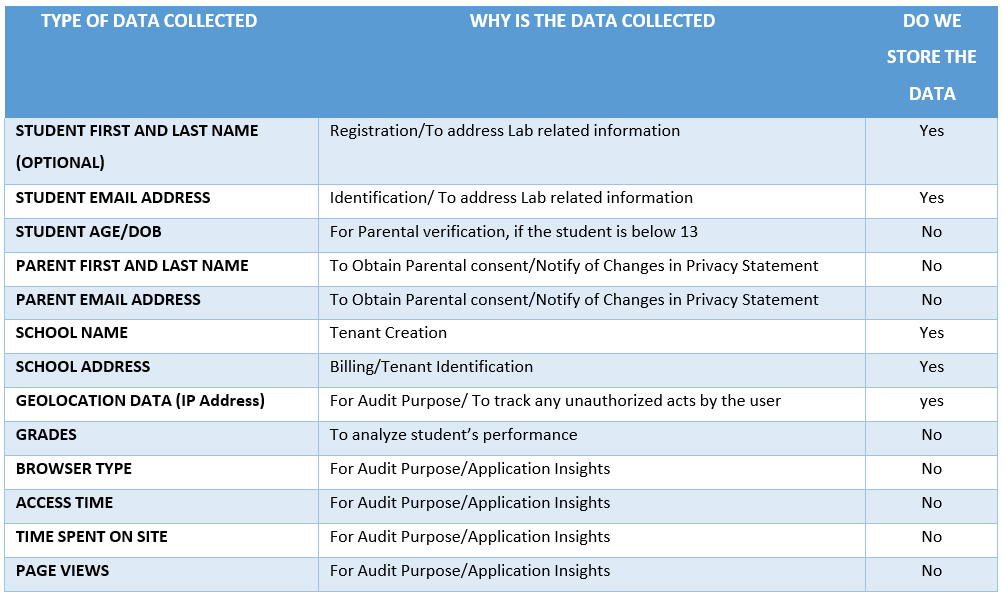 2. CloudEvents (Hackathon): If you are a user accessing CloudEvents – Impactful Virtual Events, Technology Conferences & Hackathons or the Hackathon events hosted on CloudEvents Portal (cloudlabs.ai) the following table indicates the nature of information that will be collected from the users of an event. The events are hosted by our partners such as Schools and we only engage in providing support services for the smooth operation of an No Data is transferred or shared with any third parties. The administrator of the event/Event host (in the case of educational institutions it can be a teacher, school admin, an instructor etc) decides the information that is deemed necessary to be collected from the participants such as Phone Number/Mobile Number, any other online Contact Information other than e-mail address. No information is utilized for any marketing purpose. We only use Performance related cookies for application insights. Date of Birth is collected to determine the age of the participants and it is the responsibility of the Educator to obtain School Consent before granting access to Students.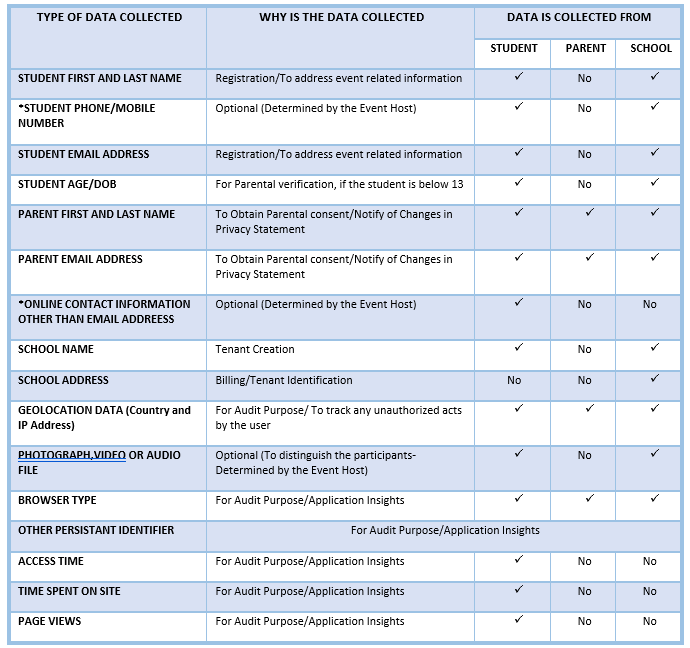 C.  Information we receive from other sources.
We may receive information about you if you use any of the other websites that Spektra Systems operate (https://cspcontrolcenter.com/, https://spektraacademy.com/ , https://saasify.ai/) or the other services we provide. In this case we will inform you when we collect that data that it may be shared internally and combined with data collected on this site.
D.   How Your Information Is Used
Personal Information: We may use your personal information:
to provide our products and services;

for the specific purpose for which that information was collected;

to address your customer service or technical support questions;

to alert you of new products or services, features, or enhancements with your consent;

to improve our products and services;

as otherwise permitted by law; and

for any other purpose with your Consent.
Non-Identifiable Data. We may use and share Non-Identifiable Data (e.g. non-personal, de-identified information that can't be used to identify you) for any lawful business purpose without any obligation or accounting to you. When we do so, we will take reasonable measures to ensure that the Non-Identifiable Data is not personally identifiable and cannot later be used to identify you.
E. How Your Information Will Not Be Used
data will not be collected, at any time, to target advertising

we will not create advertising profiles on any users

we will not sell, trade, or rent any users (students) personal information at any time to any third parties
Students PII will not be shared or otherwise transferred to any third parties for advertising or marketing purposes.
WHEN WE MAY DISCLOSE YOUR PERSONAL INFORMATION
We will only disclose your personal information for the purposes described below:
Service Providers. We may employ other companies and people to perform tasks on our behalf and we may need to share your personal information with them to provide services to you. Unless we tell you differently, they do not have any right to use your personal information beyond what is necessary to assist us. Please refer to the third-party section of this policy for a more detailed view.
We may disclose your personal information at the request of law enforcement or government agencies or in response to subpoenas, court orders, or other legal process to establish, protect, or exercise our legal or other rights or to defend against a legal claim or as otherwise required or allowed by law. We may disclose your personal information in order to protect the rights, property, or safety of a user or any other person. We may disclose your personal information to investigate or prevent a violation by you of any contractual or other relationship with us or your illegal or harmful activity.
You have the right at any time to prevent us from contacting you for marketing purposes. You can opt-out of promotional communications by following the unsubscribe instructions provided in each promotional email that we send to you. We may continue to send you administrative emails; for example, periodic updates to our Privacy Notice, even if you indicate that you no longer wish to receive promotional email from us.
YOUR RIGHTS TO REVIEW, DELETE, AND CONTROL OUR USE OF STUDENT'S PERSONAL INFORMATION (PII)
Your Educational Institution determines the information collected, maintained, and processed using CloudLabs' services. Your Educational Institution retains the right to review, modify, and/or refuse to permit further collection or use of student data information at any time. If you (Parents/Students) have any questions regarding the collection, storage, and use of the information your Educational Institution shares with CloudLabs, please contact your Educational Institution directly.
We will use commercially reasonable efforts to provide Schools with access to their Student's Personal Information. Schools may submit a request for access via privacy@spektrasystems.com. Students who wish to access their Personal Information must have the Educator (Educational Institution) submit a request on their behalf.
To exercise any of these rights, we may be contacted at privacy@spektrasystems.com or by writing to
Attention: Privacy.
Spektra Systems LLC
8201 164TH AVE NE, Suite 200
Redmond WA 98052-7615, USA,
We will respond to authorized requests to change, correct, or delete your information within a reasonable timeframe and notify you of the action we have taken.
Deletion. We will delete any or all data that we have collected from Students per the request of the School or District, at any time.
We keep personal information until it is deleted, or until we no longer need it to provide you with the Service. We will not retain student personal information for any longer than is necessary for educational purposes and legal obligations, or to provide the Service for which we receive or collect the student personal information. In addition, we only keep student personal information for as long as the student's account is active, unless we are required by law or the student's school to retain it, or need it to protect the safety of our users. Note that some content may be kept after an account is deleted for school legal compliance reasons (e.g. maintenance of "education records" under FERPA or "student records" under various state student privacy laws).
PROTECTION OF YOUR INFORMATION
Data Breach Protocol — Protection of your privacy is important to us. In the event of a data breach, Spektra Systems will adhere to the applicable Federal and/or State data breach regulations of the impacted user(s). For purposes of this policy, a breach is any unauthorized acquisition of computerized data that compromises the security, confidentiality, or integrity of personal information that we maintain.
In addition, we take various security measures—physical, electronic, and procedural—to help defend against the unauthorized access and disclosure of your information. In addition to the restrictions discussed in this Privacy Policy, our employees are required to comply with information security safeguards, and our systems are protected by technological measures to help prevent unauthorized individuals from gaining access. Our employees are trained to observe and comply with applicable federal and state privacy laws in the handling, processing, and storage of your information. These measures meet or exceed the requirements of applicable federal and state law.
Despite these precautions, no system can be completely secure and there remains a risk that unauthorized access or use, hardware or software failure, human error, or a number of other factors may compromise the security of your information. Upon discovery or notification of any unauthorized access disclosure, we will take immediate measures to safeguard and prevent further dissemination of any personal information. When reasonably able to do so, we will notify the impacted parties via contact information on record, with information including but not limited:
Company contact

A general description of the breach

An explanation, to the best of our knowledge, of what

A listing of the types of personal information that is believed to be

If known, the date and time of the breach, or a best

Whether the notification was delayed as a result of law

What steps the Company has taken to mitigate the situation, prevent it from happening again, and advice to the impacted individuals on how they can best protect

Notifications will be sent via email to all impacted users. Written notice may be sent to the impacted Educational Agencies in addition to Depending on where the impacted user lives, they may have a legal right to receive notice of a security breach in writing.
THIRD PARTY SERVICE PROVIDERS
Any personally identifiable information ("Personal Information") we collect from you will be strictly used for the sole purpose of improving our services and will not knowingly be distributed to any third parties without your consent.
It's important to us that we keep your information safe and secure. We do due diligence in selecting, evaluating, analyzing and On-boarding third parties into our environment. Any third-party offering service to CloudLabs or on behalf of CloudLabs is bound by a Data Protection Agreement (DPA). We take reasonable control measures before engaging any third party or transferring data with them. In order to help CloudLabs provide, maintain, protect and improve our services, CloudLabs shares information with other partners, vendors and trusted organizations to process it on our behalf in accordance with our instructions, Privacy Policy, and any other appropriate confidentiality, security or other requirements we deem appropriate. These companies will only have access to the information they need to provide the CloudLabs service.
You can find information on our official partners and service providers we work with below, including what data we share with them or they provide to us, the service they provide for CloudLabs and links to their respective privacy policies. This list may change over time, and we'll work hard to keep it up-to-date. If you have any questions, please get in touch here.
CloudLabs:
Spektra Systems LLC
8201 164TH AVE NE, Suite 200 Redmond WA 98052-7615, USA Phone: 1-844-773-5872
Email: legal@spektrasystems.com
Over time, we may grow and reorganize. We may share your information, including personal information with affiliates such as a parent company, subsidiaries, joint venture partners or other companies that we control or that are under common control with us, in which case we will require those companies to agree to use your personal information in a way that is consistent with this Privacy Notice.
 In the event of a change to our organizations such that all or a portion of CloudLabs or its assets are acquired by or merged with a third-party, or in any other situation where personal information that we have collected from users would be one of the assets transferred to or acquired by that third-party, this Privacy Notice will continue to apply to your information, and any acquirer would only be able to handle your personal information as per this policy (unless you give consent to a new policy). We will provide you with notice of an acquisition within thirty (30) days following the completion of such a transaction, by posting on our homepage and by email to your email address that you provided to us. If you do not consent to the use of your personal information by such a successor company, subject to applicable law, you may request its deletion from the company.
 In the unlikely event that CloudLabs goes out of business, or files for bankruptcy, we will protect your personal information, and will not sell it to any third-party.
CHANGES AND UPDATES TO THIS POLICY
We may revise our Privacy Policy and FERPA Privacy Notice from time to time. You can see when the last update was by looking at the "Last updated" date at the top of this page. We won't reduce your rights under this Privacy Notice without your explicit consent. If we make any significant changes, we'll provide prominent notice by posting a notice on the Service or the respective Website and notifying you by email (30 days in advance using the email address you provided), so you can review and make sure you know about them.
We encourage you to review our Privacy policy and this Privacy Notice from time to time, to stay informed about our collection, use, and disclosure of personal information. If you don't agree with any changes to our Privacy statements, you may terminate your account. By continuing to use the Service or our Websites after the revised Privacy Policy/ FERPA Privacy Notice has become effective, you acknowledge that you accept and agree to the current version of the Privacy Policy and Privacy Notice.
CONTACTING SPEKTRA SYSTEMS
In some scenarios, a customer may become aware of a breach and may wish to notify Spektra Systems. The current protocol is for customers to notify Spektra Systems Support, which will then interface with engineering teams for more information. In this scenario, Spektra Systems engineering teams are similarly committed to providing the information customers need, through their support contact, in a timely fashion. Customers need to reach out to Spektra on privacy@spektrasystems.com for any scenario that constitutes a breach as per this policy.
If you believe that Our products have not adhered to this Policy, please contact us electronically at the email address below and we will use commercially reasonable efforts to promptly determine and remedy the problem.
Spektra Systems LLC
8201 164TH AVE NE, Suite 200
Redmond WA 98052-7615, USA
Phone: 1-844-773-5872
Email: legal@spektrasystems.com